My day off today. Woke up as usual, but fell back to sleep until 9am. Now I feel like I am behind on everything. I'm actually trying to post this from my iPhone as I wait for my mom at the orthopedist. If only there was an easy way to insert pictures!
3:18pm – updating to add pics and stuff I couldn't do in my phone!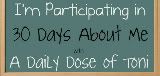 It's day 8 of 30 Days About Me. The prompt is something I hate. Well, I hate, hate. So I will share with you somethings I dislike, things that make me go ewwwwww.
1) Spiders
We had spiders like this one in FL. Yes, I took both pictures..I have a good zoom!


and this one


2) Liver
No picture necessary, just EWWWW
3) Rude people
I work in retail, and some folks are just plain rude. Some folks think that if you work in retail, it's because you are not smart enough to do anything else? I had a career for 30 years, I'm in retail now by choice, and actually enjoy my job!

It's also Random Tuesday Thoughts (Rebel) day. Stacy is keeping our randomness going while Keely takes a hiatus!
Mom is still not doing great, the reason I am sitting at the doctor with her this morning. There is a pain that she can't explain! They are doing an x=ray. (edited to add – the x-ray looks good, and the doctor says she is right where she should be in the recovery process. The shin pain she is feeling is normal. Hopefully knowing there is nothing wrong and that she is where she should be three weeks post op will help her feel better about things!)
I work tomorrow and then have five days off. I have not had 5 days off in a row in the 1 1/2 yrs I have been working at Walgreens. Some relaxing (i.e blogging), back to school prep and hopefully a photography day for me! Tara is having a friend over for the weekend, that is usually a good thing for me! She has someone to do things with!
Last night when Tara was trying to figure out how old Lucas Grabeel who is in Switched at Birth, and was in High School Musical, she came up with his age really quickly after looking at the year he was born. I applauded her for doing math (she hates math), and then she told me… Well he was born two years after Adam Lambert and Adam is 29, so it was easy to figure. I guess everything is measured against Adam Lambert in the world of math according to Tara!

Being out with my mother today, using a wheelchair gave me a new perspective on those who live daily with a disability. I never felt like I had enough hands to do what I needed to do! Of course, we wound up in the middle of a downpour and getting the wheelchair and Mom out of the car I got drenched.
I really need to start recording the things that I say "that would be some great randomness for my blog", because lately, I can't remember anything!
Hopping on the Tuesday Train today!
and because Tigger is just so darned cute! The Tiggerific Tuesday Blog Hop!